jan 1, 2550 BC - Stonehenge
Description:
2550-1600 BCE
Bluestone, sarsen sandstone,
Wiltshire, England
Constructed during three phases.
Phase One: The first phase, beginning around 3100 BCE, began with the construction of the henge. About 360 feet in diameter with a large entrance to the northeast and smaller one to the south. Inside the henge were 56 pits, known as Aubrey holes named after the archeologist how found them. Researchers believe that the pits were most likely filled with either bluestones or wooden posts. If bluestones were used, this is remarkable because they would have come from Wales which is about 250 miles away.
Phase Two: Began about 100-200 years later. Wooden posts were added near the center possibly for some sort of roof structure as well as posts near the entrances. During this phase, Stonehenge was also used for burial purposes. Ashes were found in some of the Aubrey holes along with 30 more burial holes dug into the ditch of the henge.
Added to timeline: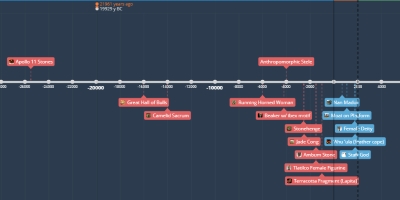 AP Art Timeline
This is the one that is correct
Date:
Images: