mar 6, 1857 - Dred Scott case
Description:
Dred Scott v. Sandford was a landmark decision by the United States Supreme Court on US labour law and constitutional law. It held that "a negro, whose ancestors were imported into the US and sold as slaves", whether enslaved or free, could not be and American citizen and therefore had no standing to sue in federal court, and that the federal government had no power to regulate slavery in the federal territories. Dred Scott, a slave in the 1840s chose to sue his master's widow for his freedom. Arguing that his master, John Emerson escorted him into free soil in Illinois and the Wisconsin Territory, and thus had legally granted him freedom. The supreme court decision affirmed the right of slave owners to take their slaves to the Western territories, thereby negating the doctrine of popular sovereignty and undermining the platform of the newly created Republican party.
Added to timeline: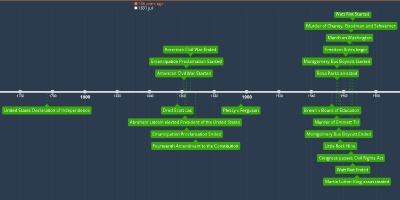 Civil Rights
Civil and political rights are a class of rights that protec...
Date: