4h 36min, jul 4, 1776 y - Second Continental Congress
Description:
Three weeks after the Battles of Lexington and Concord, the Second Continental Congress met in the State House in Philadelphia, with delegates from every colony except Georgia. The members agreed to support the war, but they disagreed, at times profoundly, about its purpose. At one pole was a group who favored complete independence from Great Britain and at the other pole was a group who hoped for reforms in the imperial relationship that would permit an early reconciliation with Great Britain. They agreed on one last appeal to the king, the "Olive Branch Petition," which the British government rejected.
Added to timeline: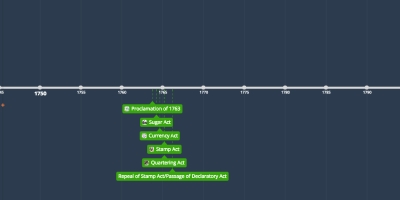 Revolution Timeline
A peek into American History!
Date:
Images: