10h 3min, apr 19, 1775 y - Battle of Lexington and Concord
Description:
The Continental Congress had approved preparations for a defensive war, and the citizen-soldiers awaited an aggressive move by the British regulars in Boston. On the night of April 18, 1775, he sent a group of about 1,000 soldiers out from Boston on the road to Lexington and Concord. He intended to surprise the colonials and seize the illegal supplies without bloodshed. But Patriots in Boston were watching the British movements closely, and during the night two horsemen, William Dawes and Paul Revere, rode out to warn the villages and farms. When the British troops arrived in Lexington the next day, several dozen minutemen awaited them on the town common. Shots were fired and minutemen fell. The first shots–the "shots heard round the world," as Americans later called them–had been fired on April 19, 1775.
Added to timeline: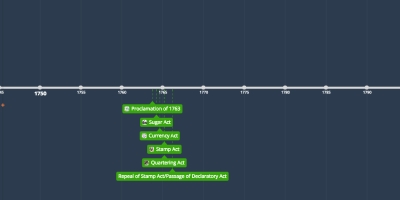 Revolution Timeline
A peek into American History!
Date:
Images: