dec 31, 1895 - Painted elk hide
Description:
1890-1900 CE
Painted elk hide
Attributed to Cotsiogo (Cadzi Cody)
Eastern Shoshone, Wind River Reservation, Wyoming
Usually, artists decorated the hides with geometric or figural motifs. By the later nineteenth century certain hide artists like Cotsiogo began depicting subject matter that "affirmed native identity" and appealed to tourists. The imagery placed on the hide was likely done with a combination of free-hand painting and stenciling.
Added to timeline: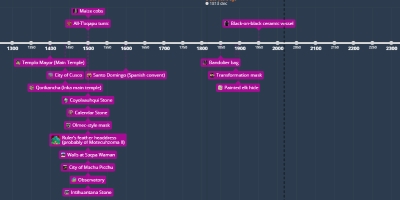 APAH Timeline
Date:
Images: