11 янв 2018 г. - Vancouver Group (cutting oil on sea routes)
Описание:
Mr. Hook said the United States wants to see an increased focus on blocking ships from supplying North Korea with oil and components for its nuclear and missile development.
"Maritime interdiction helps us to disrupt resources and the financial side helps us to disrupt the financing of its nuclear and ballistic-missile program," he said.
There is no indication that Canada would deploy ships to the region to assist in this effort.
In December, South Korea seized two ships as part of what it describes as a continuing effort to monitor North Korea's attempts to evade UN sanctions. A Panamanian-flagged vessel and a Hong Kong-based ship were suspected of illegally selling oil to North Korea. The seizures came after the UN Security Council unanimously adopted new sanctions on North Korea in response to Pyongyang's Nov. 29 ballistic missile test.
Mr. Hook said foreign ministers will also discuss asking the United Nations to list ships that have broken the UN sanctions ban.
"We think that would demonstrate seriousness of purpose if we can start having more of these vessels listed so that they can then be banned from entering other ports," Mr. Hook said.
Chinese Foreign Ministry spokesman Lu Kang said Wednesday the summit would not help because it didn't include key players and could harm joint efforts to improve the situation on the Korean peninsula. A Japanese Foreign Ministry official questioned the need for including countries as distant as Greece and Colombia.
But Mr. Hook said Washington has reached out to Beijing and Moscow and will provide them with readouts of the one-day meeting. The night before the summit, Ms. Freeland will be the host of a dinner for the delegates, which will be attended by Mr. Tillerson and U.S. Defence Secretary Jim Mattis.
The United States official also praised China, which shares a border with North Korea, for implementing UN sanctions.
He stressed, however, that Washington is not interested in regime change or collapse of the Democratic People's Republic of Korea. "Nevertheless we will not rest until the world is assured that the DPRK's pursuit of nuclear weapons has been verifiably abandoned," he said.
https://www.theglobeandmail.com/news/politics/vancouver-summit-to-explore-naval-presence-off-north-korea/article37587859/
Добавлено на ленту времени: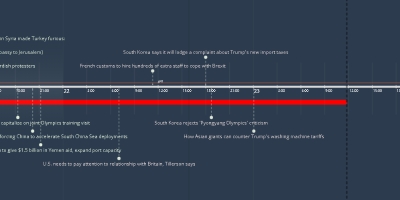 World Politics Time Line 2018
For more information, go to: http://visualtrackers.com/world...
Дата: