30 дек 1889 г. - 1889/1890s: War of the Currents
Описание:
-Late 1880s/early 1890s Thomas Edison General Electric conducts a scare campaign where he tries to emphasize exaggerated dangers of his counterpart Nikola Tesla's Westinghouse Electric's Alternating Current, to bring support toward Edison's endorsed Direct Current.
-Edison's scare campaign fails after Westinghouse responds with calm and logic, appealing to reason, and ultimately winning the argument.
-Provides an example of the transition from the publicity model into the information era.
Добавлено на ленту времени: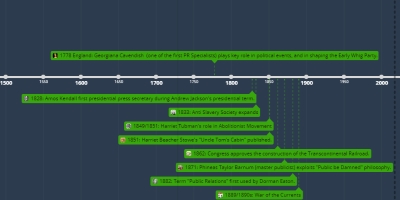 Melissa Restrepo PR Publicity Era Timeline
Key events in the Publicity Era of Public Relations
Дата:
Изображения: