6 март 1857 г. - Dred Scott v. Sandford
Описание:
1. A case between a slave, Dred Scott, and his master, Sandford, in which he believed he was a free man due to the Missouri Compromise of 1820 in which the court sided with Sandford.
3. Dred Scott, Sand Ford, Supreme Court Justices
4. Occurred in Supreme Court
5. Cause was that the Missouri Compromise of 1820 determined slavery was forbidden in the Louisiana Territory and Dred Scott resided in this area so he believed he should be free.
6. Set a precedent that African Americans could be treated as property and were not equally protected by the Constitution.
Добавлено на ленту времени: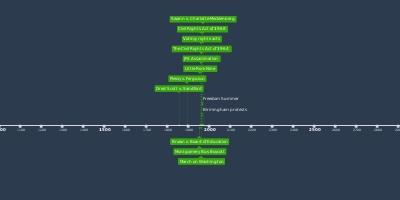 Civil Rights Timeline
Дата: