1 gen 1828 anni - 1828: Amos Kendall first presidential press secretary during Andrew Jackson's presidential term.
Descrizione:
-Kendall produced newspaper material that appeared throughout country to build support for Jackson's programs.
-Kendall writes annual addresses and drafts Jackson's veto of the bills to recharter the Second bank of the U.S.
Aggiunto al nastro di tempo: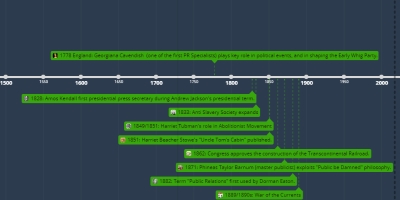 Melissa Restrepo PR Publicity Era Timeline
Key events in the Publicity Era of Public Relations
Data:
Immagini: