1 gen 2500 anni a. C. - Papyrus in Egypt
Descrizione:
The papyrus of Egypt is most closely associated with writing - in fact, the English word 'paper' comes from the word 'papyrus' - but the Egyptians found many uses for the plant other than a writing surface for documents and texts. Papyrus was used as a food source, to make rope, for sandals, for boxes and baskets and mats, as window shades, material for toys such as dolls, as amulets to ward off throat diseases, and even to make small fishing boats.
Interaction: As students born in the 21st century, we weren't much exposed to the Papyrus. But we encountered the same uses of the plant, but instead of Papyrus, we had banana leaves as a source of writing material. It is also used for eating and medicine purposes which is similar to the Papyrus.
Aggiunto al nastro di tempo: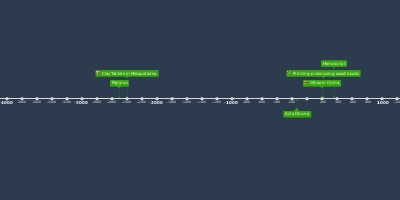 Pre Industrial Age
Data:
Immagini: