1 gen 220 anni - Printing press using wood blocks
Descrizione:
Woodblock printing is a technique for printing text, images or patterns used widely throughout East Asia and originating in China in antiquity as a method of printing on textiles and later paper. As a method of printing on cloth, the earliest surviving examples from China date to before 220 AD, and woodblock printing remained the most common East Asian method of printing books and other texts, as well as images, until the 19th century. Ukiyo-e is the best known type of Japanese woodblock art print. Most European uses of the technique for printing images on paper are covered by the art term woodcut, except for the block-books produced mainly in the 15th century.
Interaction: We the 21st century students didnt really interact with the Painting press as it was only until the 19th century and we, the students, are born in the 21st century. The only similar thing as to the printing press using wood is the wood stamps or stamps that some companies or various places still use.
Aggiunto al nastro di tempo: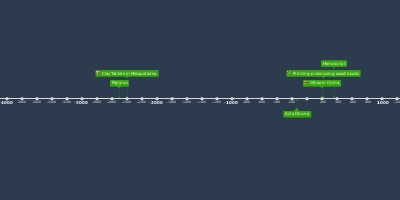 Pre Industrial Age
Data:
Immagini: