1 gen 35000 anni a. C. - Cave Paintings
Descrizione:
Cave or rock paintings are paintings painted on cave or rock walls and ceilings, usually dating to prehistoric times. Rock paintings have been made since the Upper Paleolithic, 40,000 years ago. They have been found in Europe, Africa, Australia and Southeast Asia.
Interaction: There are no interactions nor exposures on cave paintings today because those were from a very long time ago but there was a recent article from BBC news that said there was painting discovered on the wall of an Indonesian cave has been found to be 44,000 years old.
Aggiunto al nastro di tempo: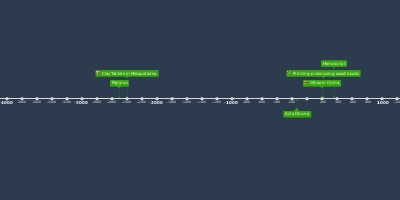 Pre Industrial Age
Data:
Immagini: