28 agos 1963 anni - March on Washington
Descrizione:
1. More than 200,000 protesters marched through Washington to advocate for civil and economic rights of African Americans and this is where MLK's famous "I Have a Dream" speech was performed.
2. MLK, John Lewis, many protesters
3. Washington, DC
4. One major cause was to gather to show support for Kennedy's administration and in an attempt to push through the Civil Rights Bill that Kennedy was planning.
5. Effect was that althought the Civil Rights Bill did not get passed by Kennedy, it showed their support for a bill which was eventually passed by Johnson.
Aggiunto al nastro di tempo: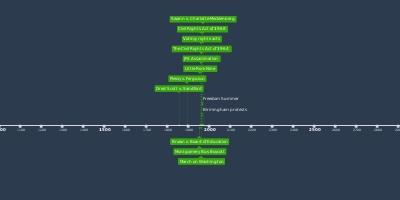 Civil Rights Timeline
Data: