30 gen 1834 anni - Elphinstone College
Descrizione:
In 1827 a resolution was passed that an institution for promotion of education should be established under Bombay Native Education Society and be designated as "Elphinstone College" (distinct from High School). This is after Hon. Mountstuart Elphinstone, the departing governor of Bombay who was responsible for beginning higher education in the city.
*Rs.2,29,636.00 was collected by public subscription to fund teaching professorships in the English language and the Arts, Science and Literature of Europe. The professorships were in honour of Mountstaurt Elphinstone. The college was formally constituted in 1835. The classes commenced in 1836, at Town Hall, with the first two professors: Arthur Bedford Orlebar (Natural Philosophy) and John Harkness (General Literature).
In 1840, the professors' classes were amalgamated with the Society's High School to form the Elphinstone Native Education Institution. In 1845, the name was shortened to Elphinstone Institution.
Elphinstone College became a distinct institution, separated from the high school, on 1 April 1856. This year is officially considered to be the year of the establishment of Elphinstone College.
The college was affiliated to University of Bombay in 1860.
Aggiunto al nastro di tempo: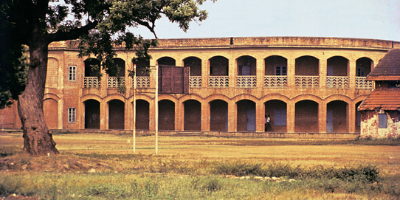 History of Education in India during Colonial Times- 1700-1947
Editors: Shivakumar Jolad, Susanna G and Pranjali Kulkarni ...
Data:
Immagini:
Geo: