20 ottob 2008 anni - Iowa City becomes a UNESCO City of Literature
Descrizione:
Iowa City was the third city in the world to be named a City of Literature and was the only one in the United States until 2017, when it was joined by Seattle, WA. Iowa City owes this honor partly to the Writers' Workshop at the University of Iowa, which helped foster a community of literacy and literature. The city itself has worked to honor its literary heroes as well, especially through the Literary Walk, a series of bronze panels in its sidewalks featuring quotes from authors connected to the city and the state.
The City of Literature designation opens opportunities for creative tourism and encourages local businesses to engage new audiences. It also calls on Iowa City to continue to foster literacy and literary development both in its own community and abroad, focused especially on progress in developing countries.
Aggiunto al nastro di tempo: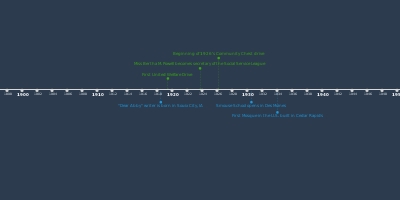 United Way JWC History
Data:
Immagini: