Observation, strategy and planning for Community Development (1 ene 2020 año – 25 dic 2022 año)
Descripción:
During this time, we commit to prayerfully observe needs in contect, cast vision, and do trial runs for the longer-term CD project.
It may be possible to establish small projects in this time period or even begin the longer-term project(s) but on a smaller scale.
Añadido al timeline: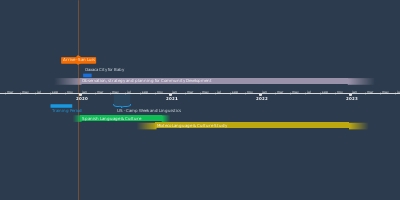 Jordan & Janna Flory - Beginning Timeline
Initial stages: Moving, Spanish, Mixtec language and culture...
fecha: