1 ene 2003 año - Video Chat
Descripción:
One of the most popular video conferencing platforms has been Skype. Although it has professional limitations, Skype is popular because it's a free cross-platform service. The video chat service first appeared on the market in 2003 and was acquired by eBay a few years later. It was sold to investors in 2009 then acquired by Microsoft in 2011.
Video chat is an online face-to-face, visual communication performed with other Internet users by using a webcam and dedicated software.
The term stemmed from programs that evolved from text-based chats to incorporating two-way video interaction. Video chat is usually used when video-based communication is incorporated into a preexisting service. For instance, when Facebook incorporated Skype video-based communication in 2011, it said that it was adding a video chat.
Some of our members have their loved ones work somewhere far making video chat their only source of visual communication and all of us have used video chat to communicate with friends from afar.
Añadido al timeline: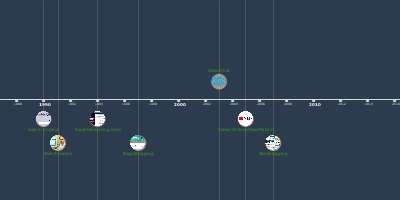 Digital Age (first 7)
fecha:
Fotos: