1 ene 360 año - Codex in the Mayan region
Descripción:
The earliest type of manuscript in the form of a modern book (i.e., a collection of written pages stitched together along one side), the codex replaced the earlier rolls of papyrus and wax tablets. The codex had several advantages over the roll, or scroll. It could be opened at once to any point in the text, it enabled one to write on both sides of the leaf, and it could contain long texts. The difference can be illustrated with copies of the Bible. While the Gospel According to Matthew nearly reached the practical limit of a roll, a common codex included the four Gospels and the Book of Acts bound together, and complete Bibles were not uncommon.
Interaction: Students born in the 21st century weren't much exposed to this manuscript as computers were already exposed on our existence. Maybe there are some who got to see and actual Codex or manuscript in some museums but hasnt really made use of it.
Añadido al timeline: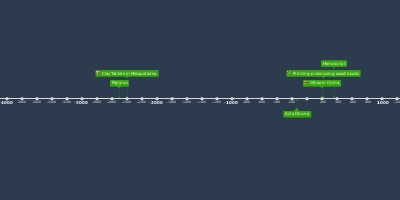 Pre Industrial Age
fecha:
Fotos: