6 ene 2198 año - Tame the waves
Descripción:
The Solar System is colonized. By now nearly every major celestial object has a settlement or has been visited by humans.
Venus is home to massive floating blimp cities, and its home surface has a massive interplex of gas factories.
Mercury is the site of a factory mass producing satellites for the Dyson Sphere Project.
Mars has a population of 340,000. It boasts numerous habitat city domes. An extensive terraforming project is about to commence.
Euros is the site of BH mining asteroid control center (MACC). Thousands of Asteroids are processed at this facility.
The moons of Jupiter and Saturn have healthy sustaining colonies. Titan is home to the governing administration of this region of space.
Uranus is a mining sit for Helium -3
Neptune's Triton is colonized as well and its settlement is powered with geothermal activity.
Pluto is mined for its extensive sources of water.
Now with the solar system tamed. We look out onto the void.
Añadido al timeline: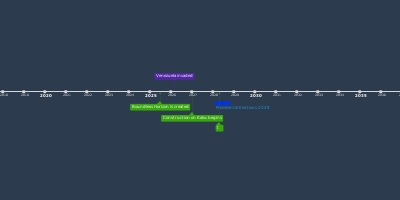 Strife: The timeline
The timeline of my sci-fi universe.
fecha: