11 feb 2135 año - Death of a god
Descripción:
Rigolette dies on his birthday, at 134. He leaves behind a changed world on his part, one that was much better than he found it.
He also left behind his wife, their 10 children, 23 grandchildren and his 2.9 trillion dollar network. His son inherits Boundless Horizon as CEO.
By the time of his death, 130,000 clones, known as "Rigolette's brothers" are spread out over the world, being licensed by companies and working to advance humanity.
Before he dies, Rigolette speaks to the UN-Security General and offers her, an effective peacekeeping army. The UNF is born, and the UN will be able to have 50% discounts on Clone orders for soldiers
Añadido al timeline: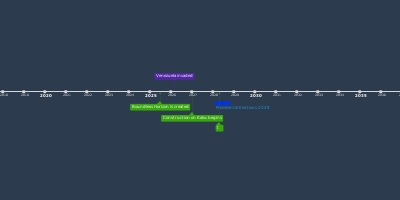 Strife: The timeline
The timeline of my sci-fi universe.
fecha: