2 out 1970 ano - Royal Albert Hall, London
Descrição:
Your Song, Border Song, Sixty Years On, Talking Old Soldiers, Honky Tonk Women, Country Comfort, Burn Down the Mission, My Baby Left Me
From 'No More Sad Refrains' Denny biography by Clinton Heylin - Jerry Donahue "That was a terrible miscast. It was our fault. He asked if he could do it. Actually Pat, Gerry and I had to talk Sandy and Trever into it. Elton, Pat, Gerry, I and Linda Peters were all enlisted by Joe Boyd to go in and do fourteen tunes in one day. We did all the backing tracks, and Linda and Elton stayed on to do vocals after that. We'd done these [publishing] demos, and the way he was playing - he was a wonderful piano player - we thought he was sensitive enough. We knew very little about his stage-show. We thought he'd be a really good opener for us. But we had no idea what he had in mind, that he was going to do the most incredible rock and roll show ever. He pretty much blew us off the stage before we even got on the stage. And unfortunately it was not one of our best gigs. Both Sandy and Trevor were very, very nervous".
Adicionado na linha do tempo: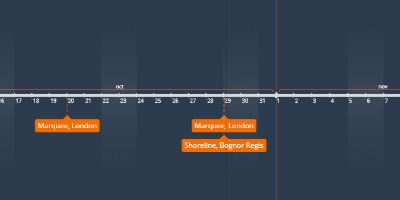 Early Elton Milestones
Data: