17 maio 1954 ano - Brown v. Board of Education
Descrição:
1. A case between Oliver Brown and the Board of Education of Topeka in which they were debating whether segregation in public schools was constitutional in which the Supreme Court unanimously decided that it was not constitutional.
2. Oliver Brown, Board of Education of Topeka, Warren Court
3. Occurred across the countries and from cases from Kansas, SC, Virginia, Delaware, and DC.
4. One major cause was that many parents were getting tired of their children receiving unequal and subpar education and having them have to travel long distances just to go to school
5. One major effect of this case was that it overruled the precedent found in Plessy v. Ferguson and it said that separate but equal was not allowed.
Adicionado na linha do tempo: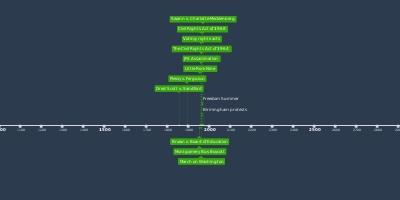 Civil Rights Timeline
Data: