1 jan 2007 ano - What is the food, conservation, and energy act?
Descrição:
The food, conservation, and energy act Invests an additional $1 billion in renewable energy research, development and production i
o Encourages the transition from corn-based ethanol to cellulosic ethanol by reducing the tax credit for corn ethanol and increasing the credit for cellulosic ethanol production
Reduces the income cap for farm program payments by 80%, preventing those with non-farm income above $500,000 from receiving any farm program payments and imposing a new income limit on farm income above $750,000 per year. It also requires direct attribution, closing loopholes that allow people to avoid payment limits by receiving money through multiple businesses
Requires mandatory Country of Origin Labeling for fruit, vegetables and meat
Rebalances loan rates and target prices among commodities, achieving greater regional equity.
Offers farmers participating in commodity programs with a choice between the traditional price protection safety net and new, market-oriented revenue coverage payments
Adicionado na linha do tempo: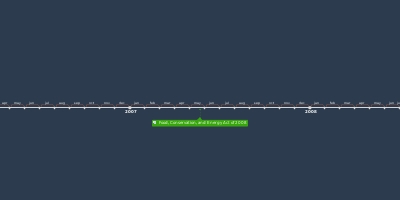 Food, Conservation, and Energy Act of 2008 Timeline
Data:
Imagens: