Thales (ca 624 - ca 546 BC), Greek (jan 1, 625 BC – jan 1, 545 BC)
Description:
From Miletus in Ionia
Key ideas:
- Material monism (substance materialism).
- Everything is, or comes from, water; water is the arche. It is the original stuff, the fundamental cause or first principle that explains everything else in the cosmos.
- If Thales really was a material monist, then he thought that water persists through change.
- Natural phenomena are not explained in terms of divine intervention.
- Everything is full of gods (which would seem to make water divine and divinity material).
Key works:
- None of his writings remains.
Misc:
- Teacher of Anaximander
Links:
- https://www.iep.utm.edu/thales/
- https://plato.stanford.edu/entries/presocratics/
- https://www.iep.utm.edu/presocra/
Added to timeline: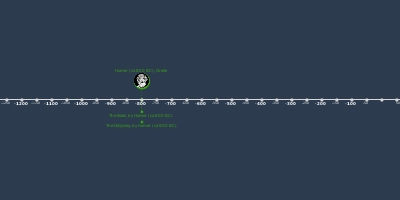 Western history
Date:
Images: