Education keeps up with the industry (may 15, 2015 – dec 31, 2018)
Description:
Journalism educators are also keeping up with the developments in the field. Professor Robert Hernandez created 'Jovrnalism', a platform to carry out 360-degree and VR experiments. Some of their projects like "Hell and High Water" saw nuanced predictions of weather preparedness and disaster management in Texas.
Asian College of Journalism has conducted full bulletins in VR and is among the few Indian J-Schools that participate in global new media newsrooms.
Dan Pacheco, the man who aided the USA Today piece called Harvest of Change, teaches multimedia and immersive journalism at Syracuse University, New York and create VR experiences of different topics here.
J-Schools across the world have started opening themselves up to the possibilities that VR present.
Added to timeline: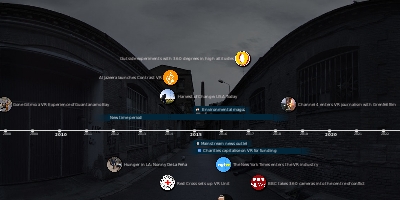 Virtual Journalism: From the past to the present
From merely bringing a user closer to a story, immersive jou...
Date:
Images:
YouTube: