Charities capitalise on VR for funding (jan 31, 2015 – dec 31, 2018)
Description:
Amnesty International begin their VR journey with 360Syria: Fear of the sky that documents the devastating barrel bombs and how people live in the constant fear of death.
Médecins Sans Frontières brought out their series - Forced From Home which seeks to raise awareness about the experience of the world's more than 68.5 million refugees and internally displaced people.
The United Nations uses VR to spread awareness about the dangers of not meeting sustainable development goals.
Added to timeline: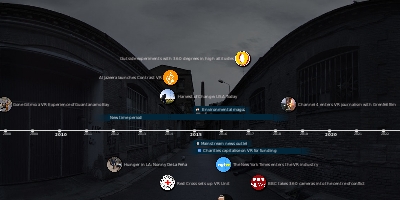 Virtual Journalism: From the past to the present
From merely bringing a user closer to a story, immersive jou...
Date:
Images:
YouTube: