21st Century Character Education (jan 1, 2000 – dec 31, 2018)
Description:
Character Education is currently seen as something of great importance. There are many programs that are available to schools to help educate their students in the area of education. These programs include the JROTC program, social and emotional learning (SEL), service learning (SL), value statement approach, and developmental assessments The current gal is to equip students wit a moral compass that they will need to have success in life (Tatman, Edmonson, & Slate, 2017).
Added to timeline: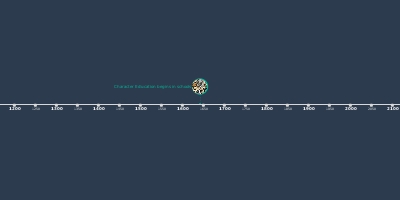 The History of Character Education
References:
Arthur, James. (2014). Traditional Approaches to...
Date:
Images: