20th Century Character Education (jan 1, 1900 – dec 31, 1999)
Description:
For abut two-thirds of this century we see a decline in character education in schools as at this time educators began to put a much larger emphasis on academics. The idea of Logical positivism makes a rise. In the 1950's schools were expected to reflect values more that directly instruct on them. Then in the 1960s personalism, pluralism, and secularization dominate the role of character education in schools. Teachers were no longer seen as a sole moral authority. Many schools went on to leave character education behind formally in the 1960s creating an all time low in character education. The 1970's brought about a renewed interest in character education and focused on the ideas of moral dilemmas and values clarification. The 1980's brought about a return of character education in the schools. The schools focus in this decade was more traditional in nature and included; direct instruction, a recognition system for those demonstrating character, and a structured system of discipline. The 1990's resonated with the sentiment that good character is the central desired outcome once again (Tatman, Edmonson, & Slate, 2017).
Added to timeline: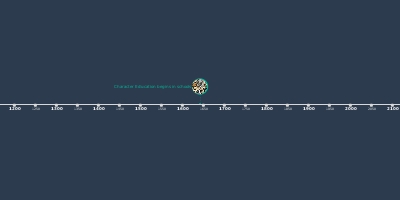 The History of Character Education
References:
Arthur, James. (2014). Traditional Approaches to...
Date: