19th Century Character Education (jan 1, 1800 – dec 31, 1899)
Description:
The 19 century employed a direct approach to character education. This approach consisted if student discipline, teacher modeling, and regular lessons in character. Controversy was on the rise about using the Bible for curriculum, so many educators of this time turned to McGuffey readers as a source. In these readers virtues such as love of country and god, duty to parents, thrift, along with honest and hard work were promoted. (Tatman, Edmonson, & Slate, 2017).
Added to timeline: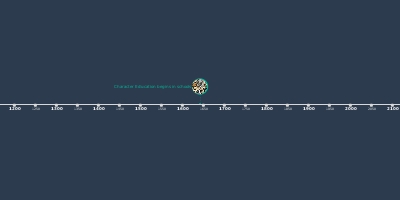 The History of Character Education
References:
Arthur, James. (2014). Traditional Approaches to...
Date: