Ben Jonson (jun 11, 1572 – aug 6, 1637)
Description:
successful playwright
1. wrote many masques which Inigo Jones provided designs for
2. dramatic directness, emotional restraint, plainness in style, influenced by Bacon?
3. anticipates the neo-classicism which was to become prominent during the later part of the century
4. slight intermediary between the classics (ex. Horace) and neo-classics
Works: "Every Man in His Humour" (1598, a comedy which satirizes "humour" characters), "Volpone" (1605, comedy), "The Alchemist" (1610, comedy) (both "present an extremely mordant view of humanity"), and "Sejanus" (tragedy)
Added to timeline: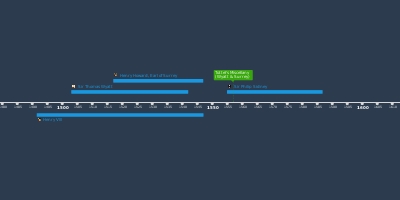 Anthology of English Verse
created just for personal overview, not finished or complete...
Date:
Images: