Brown Vs Topeka (dec 9, 1952 – may 17, 1954)
Description:
Dec 9, 1952 – May 17, 1954
Brown v. Board of Education of Topeka was a landmark 1954 Supreme Court case in which the justices ruled unanimously that racial segregation of children in public schools was unconstitutional. Brown v. Board of Education was one of the cornerstones of the civil rights movement, and helped establish the precedent that "separate-but-equal" education and other services were not, in fact, equal at all.
The case was named after the father Oliver Brown, whose daughter was barred from going to the all white school in their Topeka, Kansas neighbourhood, and instead had to travel by train long distances to go to school.
In 1951 the NAACP filed a lawsuit on behalf of Brown and others, and in 1952 the Supreme court agreed to hear the case. The 5 plaintiffs were heard under the same case, and the case came to be known as the Brown vs Topeka Board of Education.
https://www.history.com/topics/black-history/montgomery-bus-boycott
Added to timeline: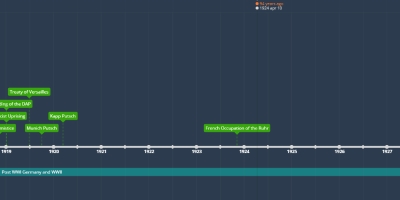 GCSE History Timeline WIP
WIP for GCSE History timeline

Green = Post WWI Germany and ...
Date: