TAPA (SIAPO) IN SAMOA (jan 1, 1978 – jan 1, 0)
Description:
As polynesians migrated across the Pacific, they brought with them the production of bark clothing.
Siapo as they are called, are made by stripping the inner bark from branches of the paper mulberry tree. The bark is then beaten with a wooden mallet, then folded and beaten again to create a degree of softness.
The mallets that beat the bark are usually inscribed with complex patterns that leave impressions like watermarks in the cloth, making them viewable when held to light or viewed from a certain angle.
Added to timeline: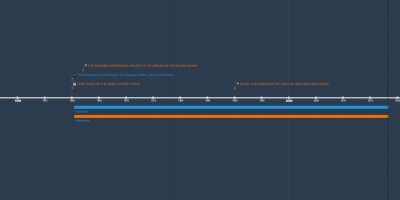 Art History 28
Date:
Images: