TATTOO IN THE MARQUESAS ISLANDS (jan 1, 1800 – jan 1, 0)
Description:
The art of tattoo was wide spread in Oceania.
Tahiti peoples were the most extensively tattooed of all Polynesians. The process for a young man of high social rank began when he was 18 and by age 30 he would be fully tattooed. Men would continue to be tattooed until the skin was completely covered and the designs disappeared.
Marquesan women were also tatooed, usually on the hands, behind the ears, ankles, and lips.
Usually these tatooing sessions would be met with a cermony to reveal the tatoos once they were complete.
Added to timeline: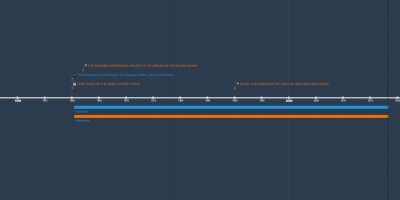 Art History 28
Date:
Images: