SPIRIT POLES OF THE ASMAT OF WEST PAPUA (jan 1, 1960 – jan 1, 0)
Description:
The Asmat who live on the coast find nature interelated with the human experience. The trees are identified with humans as the fruit are with their heads and the birds as headhunters.
These spirit poles hold that representation as true, as they are created when someone passes and has many representations in their creation and process.
The Asmat believe that anyone who dies among them was killed by enemies. Therefore, during the process of carving these poles the family and neighbors of the deceased attack this tree of which they carve the memorial from as to exact revenge. Then a ceremony is held in which some may play fight as though to prepare for how they will take on the enemy in the following days.
Added to timeline: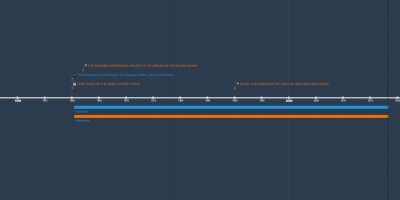 Art History 28
Date:
Images: