BILUM- CONTEMPORARY NET BAGS OF HIGHLAND NEW GUINEA (jan 1, 1990 – jan 1, 0)
Description:
Creating Bilum was a woman's craft exclusively. These bags had both symbolic and functional significance.
Looped from a single long thread these Bilum are used to carry items from vegetables to beer. The bones of the deseased may also be stored in special Bilum whilst his widow wears his personal bag as a sign of mourning.
Women also wear decorative Bilum as to show their attractiveness. Depending on how they are worn, they can indicate whether a woman is up for marriage or not.
Added to timeline: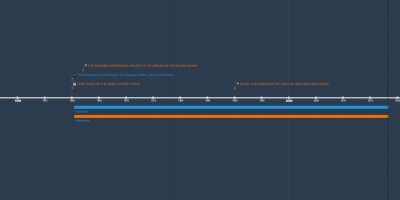 Art History 28
Date:
Images: