Industrial Revolution (jan 1, 1760 – jan 1, 1865)
Description:
westward expansion and mining
Events:
Panama canal helps w/ transportation but is not cost efficient.
Railroads transport goods for corporations at a cheaper price.
Environmental pollution from railroads
People can travel west more quickly and cheaply.
Creation of timezones and the need to keep track of time
Westward expansion and mining:
events:
Great american desert was originally infertile.
Wheat grows well so it becomes the cash crop of the area.
many people seek equal opportunities in the west.
mineral deposits found in the rockies and black hills.
People move to work in the mines.
Business owners of many towns make a lot of money.
Added to timeline: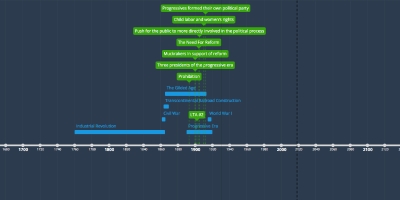 Economic Reform in the United States
David Toothaker
Date: