Fall of Fort Sumter - (1h 58min, apr 12, 1861 y – 17h 15min, oct 14, 1861 y)
Description:
-Beginning of the Civil War
-On December 20, 1860 South Carolina seceded from the Union and demanded all federal property be surrenderd to the state.
-Only 1 of 2 forts in Union control after Lincoln took office.
-The fort was surrenderd on April 14th, 1861
-Congress declared war on the Confederacy the next day.
Added to timeline: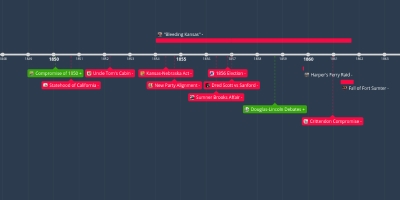 1850s Timeline
ASDKASHDLKLADASDAASDHALSDKHALDKAHSDLKAHSDLKAHDLKAHDLASKDHASL...
Date:
Images: