"Bleeding Kansas" - (jan 8, 1854 – sep 14, 1861)
Description:
- Events which took place in the Territory of Kansas involving abolitionists which turned violent for the competition over whether Kansas would be a pro or anti-slavery state.
- Making the idea of a Civil War even closer.
Added to timeline: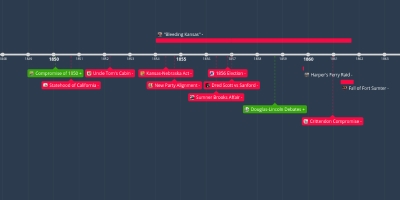 1850s Timeline
ASDKASHDLKLADASDAASDHALSDKHALDKAHSDLKAHSDLKAHDLKAHDLASKDHASL...
Date:
Images: