18 h 33 min, 1 juin 1983 ans - Monterrosa's new strategy shows signs of succes
Description:
Between 1983-84, Monterrosa's new strategy of winning the hearts and minds of the Salvadorans or the "beans and bullets" campaign, began to show success. By having few and significantly smaller killings and instead trying to "help" the peasants by providing them food and healthcare, the Army begins to make progress in wrestling Morazán from the FMLN.
Ajouté au bande de temps: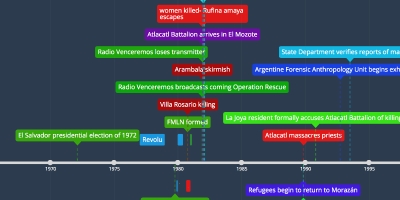 The Massacre at El Mozote
A timeline of Mark Danner's account of the 1981 massacre at ...
Date: