15 h 44 min, 22 janv. 1905 ans - CONSEQUENCES OF BLOODY SUNDAY
Description:
1. THE MASSACRE OF AN UNARMED CROWD
> undermined the autocracy of the tsar
2. General strikes
> 1 day after B.S = all the workers at the capital's e- station came out to strike
> General strikes all over the country, also Latvia (RIGA), Ukraine (KIEV) (known today).
3. Pyotr Mirsky. Minister of Interior, resigned.
> dude after Vyacheslav Plehve
4. Leon Trotsky returned to Russia
> Believing a REV is now possible grâce à G.G
Ajouté au bande de temps: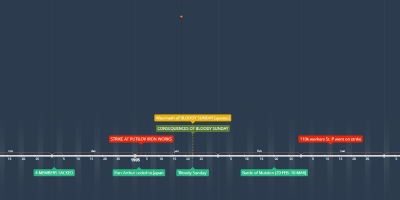 Russian Revolution
Consequences
Interpretations
Quotes
Events
Date: