20 h 56 min, 1 oct. 1904 ans - 28 RUSSIAN SHIPS LEFT
Description:
1. Mistook a group of British trawlers for Jap torpedo boats
Opened fire, killed 2 Brits fisherman. (21 Oct.)
Almost brought London into war
as a consequence, London closed the Suez Canal to Russian sea traffic, forcing the fleet to sail around AFRICA.
Ajouté au bande de temps: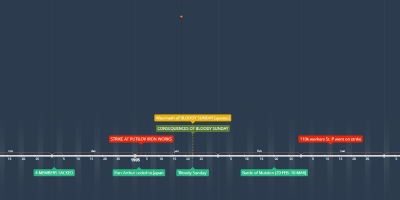 Russian Revolution
Consequences
Interpretations
Quotes
Events
Date: