1 janv. 264 av. J.-C. - Roman Wars with Carthage
Description:
Three wars Rome fought with Carthage, commonly referred to as the Punic Wars. By destroying Carthage, Rome inherited more than the trade routes but also inherited valuable lands close to home, along with the fields of Carthage. .
Tschen-Emmons, James B. "Punic Wars." World History: Ancient and Medieval Eras, ABC-CLIO, 2017, ancienthistory-abc-clio-xaaa.orc.scoolaid.net/Search/Display/583695. Accessed 21 Dec. 2017.
Ajouté au bande de temps: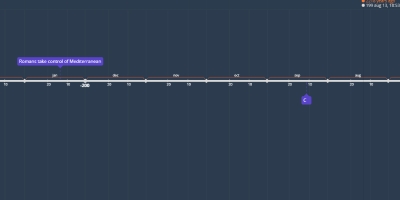 AVA
Date: