oct 20, 1548 - La Paz, Bolivia
Description:
La Paz was founded on October 20, 1548 by Spanish Conquistadors. It was founded on a Native American Laja site. The full name of the city was "Nuestra Señora de La Paz", which literally translates to "Our Lady of Peace".
Fun Fact:
La Paz is the tallest (in Elevation) capito in the world, at 3,500m above sea level.
https://en.wikipedia.org/wiki/History_of_La_Paz
Added to timeline: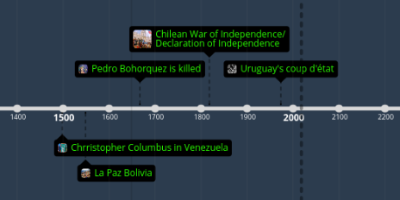 Soper-SA History - A SA
Date:
Images:
Geo: