dec 24, 1979 - Soviet invasion of Afghanistan
Description:
A succession of uprisings prompted the Soviet Union to invade Afghanistan the night of the 24th of December. They sent 30,000 troops and toppled the Presidency of People's leader Hafizullah Amin. The aim of the Soviet operation was to set up a new leader for the country: Babrak Karmal. Yet he did not gain popularity amongst the people and the US were backing up the mujahideen rebellion.
Added to timeline: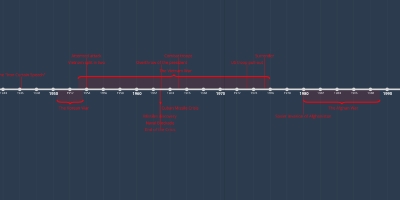 Timeline of the Cold War
A timeline representing some of the major events of the cold...
Date: