aug 17, 2019 - Dragon attack
Description:
Group is traveling to new location when they have care troubles. When they are broke down, they get attacked.
The dragons, in anger that the Doushidok are being destroyed, retaliate and send three younglings to try and take out the Aurae leaders and Mefune. This last attack pushes them to flee to Raidenya. Another dragon jumps in last minute, (With petya in toe) and fights off the three. Then she offers them a ride to somewhere safe.
Added to timeline: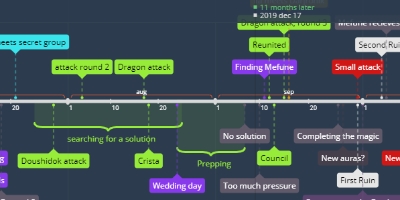 Auric Chronicles timeline
The basic timeline of the series
Date: