sep 7, 2019 - No solution
Description:
They realize there's no stopping Mefune's transformation. It's either he accepts it, or he dies. With Bracken and Christa's help, he accepts it, and manages to maintain his sanity. Maybe break the books somewhere around here? (Guess it depends on how long it ends up being. If I do break it, need to change colors.)
During the transition, Shi'nua attack in a last ditch effort to kill Mefune. This separates the group, causing crap to happen. Mefune isn't as stable as they had hoped because of the battle sort of interrupted. But it's enough to keep him alive.
Added to timeline: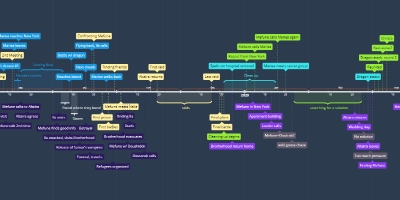 Auric Chronicles timeline
The basic timeline of the series
Date: