jun 20, 1789 - Tennis Court Oath
Description:
On 17 June
1789, the Third Estate, led by Honoré Gabriel Riqueti,
began to call themselves the National
Assembly. On the morning of 20 June, the deputies were shocked to discover that
the chamber door was locked and guarded by soldiers. Immediately fearing the
worst and anxious that a royal attack by King
Louis XVI was imminent, the
deputies congregated in a nearby indoor tennis court where they took a solemn
collective oath.
Added to timeline: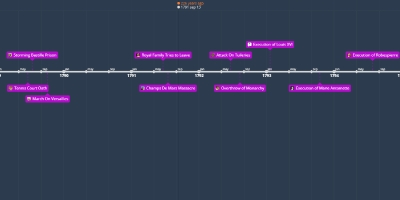 French Revolution
French Revolution Timeline-Jeffrey Fischer
Date:
Images: