dec 26, 1862 - Execution of dakota at Mankato.
Description:
Of the hundreds of Dakota people who surrendered or were captured during the war. 303 Dakota men were charged with murder and rape of townspeople. Henry Whipple and President Abraham Lincoln review the cases of the 303 Dakota men. Then Abraham Lincoln commutes 264 prisoners, and instead he leaves 39 Men to be hanged. He signs the paper to make sure the 39 men who are left are going to be hanged. One Dakota men was saved before the execution, so instead of it being 39 Dakota men hanged it was 38 men. The were all hanged at Mankato on december 26. 1862. Till this day that was the largest mass execution in the U.S. history.
Added to timeline: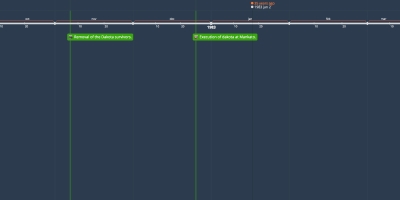 ilhans timeline
U.S.- Dakota war of 1862.
Date:
Images: