oct 20, 2017 - FRIENDS AND FAMILY ASSIST IN ERRANDS DUE TO PHYSICAL CONDITION
Description:
MY FRIENDS AND FAMILY PITCH IN TO DROP OFF BILLS, DEPOSITS, ETC. HEARING REPORTS OF WELLSFARGO NOT BEING A QUICK VISIT AND GETTING INTEROGATED BY TELLERS.
Added to timeline: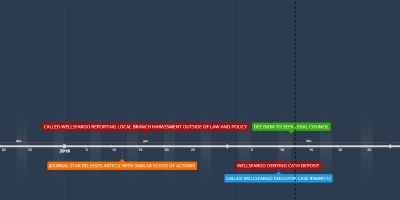 WELLSFARGO POSSIBLE PRIVACY INFRINGEMENT, DISCRIMINATION, AND BIAS FRAUDULENCE
WELLSFARGO OVERSTEPPED PRIVACY BOUNDS BY INQUIRING PERSONAL ...
Date: