jan 12, 2018 - JOURNAL STAR RELEASES ARTICLE WITH SIMILARARITIES BEGGING QUESTION TO REASONING FOR CURRENT PATRONS
Description:
THE FOLLOWING ARTICLE STATES A MAN MAKING CASH DEPOSITS IN LINCOLN OUT OF STATE FOR METH PURCHASE MAKES IT SEEM STRIKINGLY SIMILAR IN REASONING FOR HARASSING PATRONS TRYING TO MAKE CASH DEPOSITS TO COMPLETE BITCOIN TRANSACTIONS. THE RECEIPT FROM DEPOSIT IS WHAT RELEASES THE COIN.
http://journalstar.com/news/local/911/texas-man-gets-federal-time-for-selling-meth-to-an/article_9c876f51-48f3-572c-b90a-3c13d580e0ee.html
Added to timeline: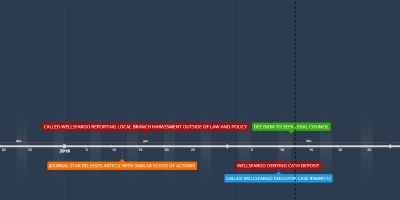 WELLSFARGO POSSIBLE PRIVACY INFRINGEMENT, DISCRIMINATION, AND BIAS FRAUDULENCE
WELLSFARGO OVERSTEPPED PRIVACY BOUNDS BY INQUIRING PERSONAL ...
Date: